Microsoft has given us a preview of  Surface fold-able devices.  These are two new Surface devices that introduce dual screens and multi-tasking in different screens at the same time. They are the Surface Duo and the Surface Duo. 
The Surface Duo
is a dual screen device with a 5.6: display. It runs Android OS and has two 5.6" screens that rotate 360 degrees. It is fully fold-able or unfolds as an 8.3" Tablet.The Surface Duo can run two applications at the same time or be turned into landscape mode to allow screen to display to be used as a keyboard or game controller. It is powered by Snapdragon 855 processor. At this time it does not have a camera yet. The Surface Duo appears to be an exciting gadget. Whether it will be called a smart phone or a tablet is to be seen when the device is presented for the holidays 2020. The early preview is to allow developers time to roll out apps for the device.
The Surface Duo: is very attractive and the size and adaptability allows for many uses and environments. There's also a clever Bluetooth keyboard that flips, slides, and locks into place with magnets, which can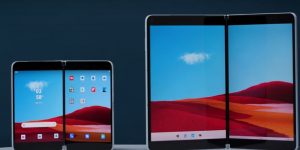 be stowed and secured to the rear of the device. There's even a new Surface Slim Pen that attaches magnetically, and it's the same stylus Microsoft is using on the new Surface Pro X. The Duo used the Windows10X operating system which is specifically designed for dual screen devices. It is not compatible with windows 10S. Windows 10X will run on Microsoft's Surface Neo, and on other upcoming dual-screen laptops from Asus, Lenovo, Dell, HP etc.
Unlike regular laptops the keyboard can be moved about freely for comfort and convenience, depending on where you place it. Windows 10X might display a new rich input area above the keyboard area that Microsoft is calling WonderBar. It's similar in concept to Apple's Touch Bar, but allows freer movement.
has two 5.6 fold-able displays that can rotate at 360 degrees. It unfolds as a 8.3 inch tablet. It can run two different applications at the same time. Neo runs on the Windows 10X specifically designed for dual screens and functions. When it is folded open it offers a tablet mode that offers 9 in design space. Surface Neo has a keyboard that magnetically attaches. When it is attached a software touchpad appears on the screen and the keyboard is wirelessly charged.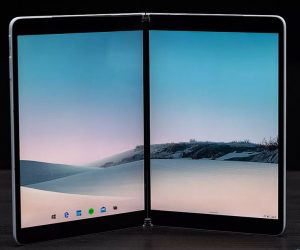 Neo  runs the Android operating system. Yes, Microsoft has partnered with Google to use their operating system to provide what customers need and are familiar with. It seems wise to use a known and tested system as Android. For the same reason Microsoft is giving developers a year to create applications for its new platform of fold-able devices. The hardware is attractive. The dual screen technology is progressive and forward looking. Fold-able and dual functioning split screens are a step forward. All this excitement will be fulfilled when the software follows the direction of design and deliver a device that can be a phone, a tablet and laptop or vise versa.  We have till next year to see what develops.